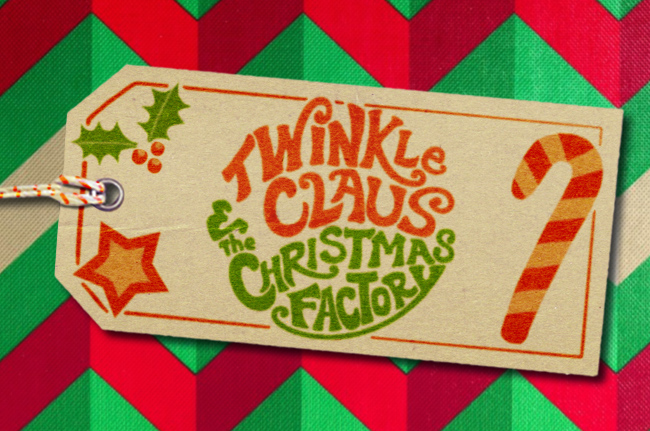 This is the thrilling conclusion to The New Claus and Chilled to the Brim! Please listen to those Christmas specials first in order to keep up with the story!
Mat, Dan, Andrew and Mélissa return to North Pole, Alaska, on a whirlwind expedition of Twinkle Claus' wondrous new Christmas Factory. Inside, an incredible adventure awaits! This year, the One Word, Go! Show team is armed with a plan to expose Twinkle Claus' shady history to the world, a plethora of outrageous music (whether you asked for it or not), and jokes a-plenty!
Podcast: Play in new window | Download
Subscribe: Apple Podcasts | Google Podcasts | Spotify | TuneIn | RSS
We look forward to tons of new One Word, Go! content in 2017!
A huge thanks to everyone who participated in making Twinkle Claus and the Christmas Factory possible:
Mat Torchia
– Writer, "Mat", "Twinklie Winklies"
Jason Torchia
– Writer, "Twinklenose"
Dan Loree
– "Dan"
Andrew Sturgess
– "Andrew"
Mélissa C.
– "Mélissa"
Meghan T.
– Writer, "Airplane Voice"
Kristian T.
– "Children"
Shelley T.
– "Mom"
Nick from Epic Film Guys
– Concerned Plane Man
A special shout-out to Willy Wonka and the Chocolate Factory, of which we blatantly parody throughout the entire show.
If I forgot to name you, I am sincerely sorry!
Let me know, so I can correct that ASAP.
—
Submit your word! – Onewordgoshow.com
Merchandise – Onewordgo.storenvy.com
Voicemail Line – 1-844-OWG-SHOW // (1-844-694-7469)
Twitter – Twitter.com/onewordgo
Facebook – Facebook.com/groups/onewordgo
Snapchat – Snapchat.com/add/onewordgo