APRIL FOOLS!
We thought it would be fun to just jam-pack this episode with advertisements as a little goof. Unfortunately, no companies wanted to pay us to promote their products, so we decided to do them a favor and do it for free! If you ask me, our ads were way better than anything that could have been provided to us anyway.
What's more effective? "Kleenex – For every day care", or "KLEENEX – GET LAID"? I rest my case.
Anyway, don't worry! The real Episode 123: "Money" will be up on April 6th!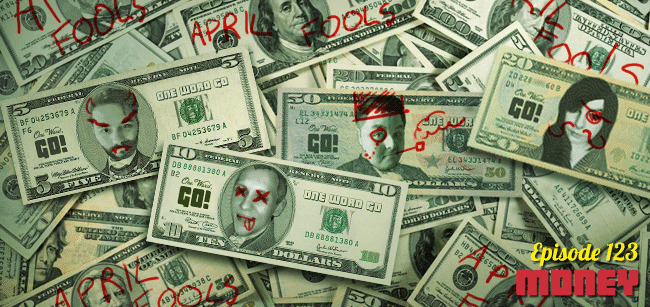 Today's word is "money" sent to us by Ian N!
This week, Andrew hates the price of Lego, Dan has an obsession with cellphones, Mat wishes he was a worse human being, and Mélissa learns two valuable life skills: lock picking and switchblade slingin'.
Podcast: Play in new window | Download (Duration: 1:05:25 — 60.0MB)
Subscribe: Google Podcasts | Spotify | TuneIn | RSS
Next week's word is "Disney"! Get your stories to us by leaving a comment below, calling in to the voicemail line at 1-844-OWG-SHOW (1-844-694-7469), or post in our Facebook group!
—
Submit your word! – Onewordgoshow.com
Merchandise – Onewordgo.storenvy.com
Voicemail Line – 1-844-OWG-SHOW // (1-844-694-7469)
Twitter – Twitter.com/onewordgo
Facebook – Facebook.com/groups/onewordgo
Snapchat – Snapchat.com/add/onewordgo
[ssba]