Episode 95: "Ask The Idiots" (Part 1) with Jason!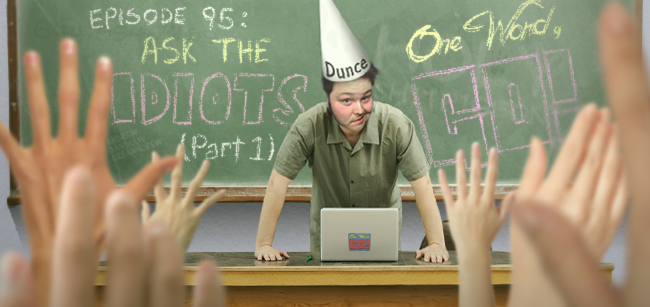 Holy shitpigeon it's been awhile! There is a lot happening behind the scenes at One Word, Go! This episode was recorded last month in August, but the editing process was held up due to some unforeseen circumstances – don't worry. Mat will inevitably be talking (bitching, complaining, whining) about what's been going on in an upcoming episode. You'll be in the loop soon enough. But for now… One Word, Go! is back, baby!
On today's episode, Mat's brother Jason joins us as we answer questions asked by you!  Find out the answers to burning questions such as, "which is the best way to serve eggs?" and "where is my wallet?" Also, Mat does even more terrible impressions, Fish gets grossed out by chicken-fetuses, Andrew shows off his spot-on narrator skills, Breanne doesn't think she's an idiot, and Jason finally gives Mat the recognition he's been craving his whole life, followed by a touching-if-not-creepy brotherly hug.
Podcast: Play in new window | Download
Subscribe: Apple Podcasts | Google Podcasts | Spotify | TuneIn | RSS
Save 25% on One Word, Go! stuff by using coupon code: "shitpigeon" in the One Word, Go! Shop!
The song at the end of today's show is called How Sweet To Be An Idiot by Neil Innes!
—
Submit your word! – Onewordgoshow.com
Merchandise – Onewordgo.storenvy.com
Voicemail Line – 1-844-OWG-SHOW // (1-844-694-7469)
Twitter – Twitter.com/onewordgo
Facebook – Facebook.com/onewordgo
The One Word, Go! Show is an affiliate of The Webcast Beacon Network