Episode 96: "Ask The Idiots" (Part 2) with Jason and Mélissa!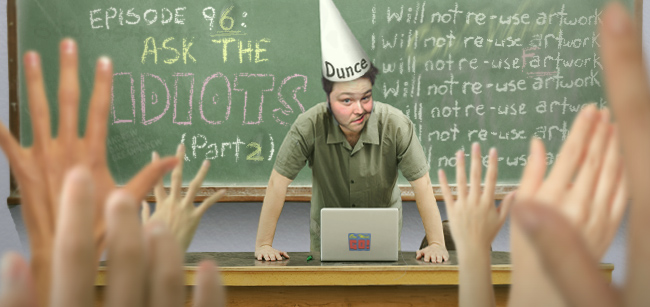 It's Part 2 of our Ask the Idiots special!
On today's show, Mélissa and Jason join Mat, Dan, and Andrew to answer such questions as "How do I get rid of smelly feet?", "What do I do if I can't stop my potato from trying to kill me?", and "Should I buy a new bed first, or a new tv?". You may notice Mat is a little short tempered this episode. He's been going through some shit. Look forward to an explanation of that (as well as an explanation as to where Fish is) on next week's "feelings" episode. This could get ugly.
Podcast: Play in new window | Download
Subscribe: Apple Podcasts | Google Podcasts | Spotify | TuneIn | RSS
Save 25% on One Word, Go! stuff by using coupon code: "shitpigeon" in the One Word, Go! Shop!
The song at the end of today's show is called
Rainbow Connection
!
Next week's word is "feelings"! Get your stories in to us by using the links below!
—
Submit your word! – Onewordgoshow.com
Merchandise – Onewordgo.storenvy.com
Voicemail Line – 1-844-OWG-SHOW // (1-844-694-7469)
Twitter – Twitter.com/onewordgo
Facebook – Facebook.com/groups/onewordgo
The One Word, Go! Show is an affiliate of The Webcast Beacon Network