Just over a year ago, Mat would have been complaining about Snapchat. Such complaints would include the phrases "I don't get it", "What's the point?" and "STOP TELLING ME TO USE SNAPCHAT I DON'T UNDERSTAND WHY WOULD I WANT A VIDEO TO DISAPPEAR THE SECOND SOMEBODY WATCHES IT? THIS IS STUPID. I HATE YOU."
Since then, Mat has been experimenting with Snapchat, and he's had a surprising amount of fun with it. Let this compilation of Mat dicking around on Snapchat serve as an admission of "I was wrong".
Want to join in on the stupidity? Follow onewordgo on Snapchat, or take a picture of the snapcode below in Snapchat to add as automatically!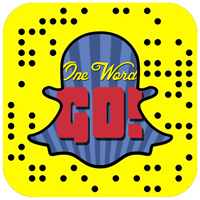 —
Submit your word! – Onewordgoshow.com
Merchandise – Onewordgo.storenvy.com
Voicemail Line – 1-844-OWG-SHOW // (1-844-694-7469)
Twitter – Twitter.com/onewordgo
Facebook – Facebook.com/groups/onewordgo
[ssba]